Here's all the movie and TV news you need to know from the past week, it's the News Shotgun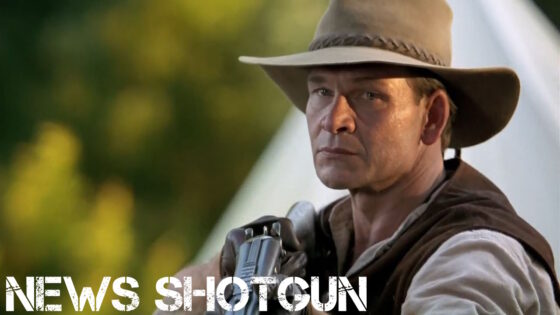 Adult Swim orders new Mike Judge/Greg Daniels animated series: The team behind King of the Hill is bringing a new animated series to Adult Swim.  The show is called Common Side Effects and Mike Judge and Greg Daniels will executive produce while Joe Bennett and Steve Hely created the show.  Two former high school lab partners uncover a conspiracy by Big Pharma and the government to suppress knowledge about a mushroom that could potentially cure all diseases.
Primal Season 3 in development: Speaking of Adult Swim, in surprising but welcome news, Primal is getting a season 3.  The Genndy Tartakovsky show seemed to wrap up neatly at the end of season 2 but Season 3 is in production and coming to Adult Swim and Max shortly.  *Spoilers* The new season will seemingly pick up with the daughter of Spear and one of Fang's hatchlings as a new pair trying to survive in the brutal prehistoric world of the series.  Tartakovsky currently has Unicorn: Warriors Eternal airing on Adult Swim and Max.
Fixed sets voice cast: Genndy Tartakovsky also has a new R-rated animated movie coming soon from Sony, Fixed, and the main voice cast was set this week.  Adam Devine, Idris Elba, and Kathryn Hahn will co-star in the movie, which follows a dog named Bull, voiced by Devine, whose friends take him out for one last night with his testicles before his owners take him to be neutered.  Fred Armisen and Bobby Moynihan also co-star.
Andy Muschietti is directing Batman: Brave and The Bold: With The Flash hitting theaters this weekend, director Andy Muschietti is sticking with DC going into the big reboot universe, signing on to direct Batman: Brave and The Bold.  Announced by James Gunn as one of the upcoming projects in his and Peter Safran's new DC universe, the movie will feature Batman and his son Damian as Robin and is based on Grant Morrison's run on the comic.  Muschietti also signed a three-year first-look deal with Warner Bros. Discovery to develop and produce content for the studio, both movies and TV, with his sister Barbara Muschietti, who forms the other half of their production company.
Cinderella's Revenge twisted fairy tale movie in development: Cinderella is getting a horror twist with the recently announced Cinderella's Revenge.  The movie will star Lauren Staerck as Cinderella, who decides to use the help of her Fairy Godmother, played by Natasha Henstridge, to get bloody revenge on her wicked stepmother and stepsisters.  Andy Edwards, who directed Zombie Spring Breakers, will direct the movie.
Mortal Kombat 2 rounds out cast: The upcoming sequel to 2021's Mortal Kombat has rounded out its cast with several new additions.  Martyn Ford, Desmond Chiam, Ana Thu Nguyen, and Damon Herriman have joined the cast, playing Shao Khan, King Jerrod, Sindel, and Quan Chi respectively. Lewis Tan, Jessica McNamee, Josh Lawson, Tadanobu Asano, Mehcad Brooks, Ludi Lin, Chin Han, Hiroyuki Sanada, Joe Taslim and Max Huang are all back from the first movie, and previously announced new cast members include Karl Urban as Johnny Cage, Tati Gabrielle as Jade and Adeline Rudolph as Kitana.  Simon McQuoid is returning to direct.
Argylle gets a release date: Matthew Vaughn's new spy action movie Argylle, starring Henry Cavill, has gotten a release date of February 2nd next year for theaters, with a global streaming release on Apple TV+ afterward.  The movie co-stars Bryce Dallas Howard, Sam Rockwell, Bryan Cranston, Catherine O'Hara, John Cena, Dua Lipa, Ariana DeBose, and Samuel L. Jackson and follows Cavill as a super spy globe trotting around the globe.
RIP Treat Williams, Cormac McCarthy, and John Romita Sr.: We lost several notable names this week between Treat Williams, Cormac McCarthy, and John Romita Sr. Treat Williams died in a motorcycle accident at age 71 and is probably best known for his role on the TV series Everwood but also appeared in numerous other TV shows and movies, including The Phantom, Deep Rising, and The Substitute series.  Cormac McCarthy passed away at age 89 and was considered one of the greatest American authors, writing novels like No Country for Old Men, Blood Meridian, All the Pretty Horses, The Road, and more, many of which were turned into critically acclaimed films.  John Romita Sr. was a comics legend, co-creating characters like Mary Jane Watson, The Punisher, Wolverine, and more at Marvel Comics.  His run as the artist on Spider-Man is considered one of the definitive series and he eventually became Marvel's art director starting in the early 70s.
Sarah Polley in talks for Bambi remake: Oscar winner Sarah Polley, who most recently directed Women Talking, is in talks to direct one of the upcoming Disney "live-action" remakes, Bambi.  The new movie will be a musical with music from country superstar Kacey Musgraves and feature CG animals similar to The Lion King remake.
Disney shuffles release dates: Disney also shuffled several release dates because of the writer's strike.  Deadpool 3 is now November 8th, 2024, Captain America: Brave New World is now July 26th, 2024, Thunderbolts is December 20th, 2024, Blade is February 14th, 2025, Fantastic Four is May 2nd, 2025, Avengers: Kang Dynasty is now May 1st, 2026 and Avengers: Secret Wars is now May 7th, 2027.  In non-MCU movies, Avatar 3 is now December 19th, 2025, with the other sequels pushed to 2029 and 2031.
Gotham Knights canceled at The CW: In non-shocking news for anyone who saw the trailer or any promos, the terrible-looking Gotham Knights has been canceled after 1 season.  The show followed the son of Batman, Turner Hayes, who joined a group of villain children to uncover the truth of his father's murder.  Supernatural's Misha Collins co-starred as Harvey Dent.  The CW changed ownership after the Warner Bros. Discovery merger and the new owners are trying to cut costs and maximize profits.  Gotham Knights had decent ratings but the production costs and the fact that Max would get the streaming rights factored into the decision to cancel the series.
Superman & Lois renewed for Season 4: On the flip side, Superman & Lois was renewed for a 10-episode fourth season, although it feels a bit like a pyrrhic victory as it comes at the cost of big budget cuts and most of the cast being removed from the series.  The fourth season will still feature the Kents: Tyler Hoechlin, Elizabeth Tulloch, Alex Garfin, and Michael Bishop, along with Michael Cudlitz as Lex Luthor.  The rest of the main cast, Dylan Walsh, Emmanuelle Chriqui, Erik Valdez, Inde Navarrette, Wolé Parks, Tayler Buck, and Sofia Hasmik have all been removed as regulars, meaning they will be completely absent from the series unless they return as guest or recurring roles.  It's not clear if there will be any plot reasons for all those characters to be absent.  Season 3 currently has two episodes left for the season.
Knuckles series adds cast members: Paramount+'s upcoming Sonic spin-off, Knuckles, has added several new cast members this week.  Christopher Lloyd, Cary Elwes, Stockard Channing, Paul Scheer, and Rob Huebel have joined the cast, which already featured Idris Elba's Knuckles, Adam Pally, Edi Patterson, Julian Barratt, Scott Mescudi, and Ellie Taylor.  The series will follow Knuckles and Pally's Wade, with Knuckles taking Wade under his wing to train him in the ways of being an Echidna warrior.  Rory McCann and Tika Sumpter will guest star in the series.
Silo renewed for Season 2: Apple's big new sci-fi series, Silo, has been renewed for Season 2.  Based on the Hugh Howey books, the series is set in a dystopian future where the last 10,000 humans on Earth survive in a silo a mile deep into the ground.  Rebecca Ferguson co-stars and the show was created by Graham Yost.  The show was the biggest drama debut in Apple TV history and ratings have doubled since its premiere in May.
Giancarlo Esposito joins the secret Universal Monsters movie: Giancarlo Esposito is the latest to join the upcoming secretive Universal Monsters movie from Scream 5 and 6 directors Radio Silence.  Melissa Barrera, Alisha Weir, Dan Stevens, Kevin Durand, Kathryn Newton, Angus Cloud, and Will Catlett were previously cast but everything is being kept under wraps.
Where to watch Deep Rising
I'm like the J. Jonah Jameson of Everything Action, writing and editing and constantly demanding pictures of Spider-Man.
adult swim
andy muschietti
argylle
bambi
batman the brave and the bold
cinderella's revenge
common side effects
cormac mccarthy
disney
fixed
genndy tartakovsky
giancarlo esposito
gotham knights
greg daniels
henry cavill
john romita sr
knuckles
matthew vaughn
MCU
mike judge
mortal kombat 2
movie new
news shotgun
primal
sarah polley
silo
superman & lois
treat williams
tv news
universal monsters