Here's all the movie and TV news you need to know from the past week, it's the News Shotgun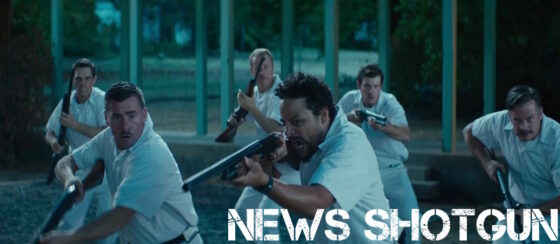 Tron 3 adds three new cast members: The third Tron movie, officially titled Tron Ares, has added three new cast members to join Jared Leto, who is starring as the titular Ares, a new manifestation of the Tron program.  Evan Peters, Jodi Turner-Smith, and Greta Lee have joined the cast in undisclosed roles.  Joachim Rønning is directing the sequel and, if there no strike-related delays, it is hoping to go into production in August.
Menendez brothers cast for next season of Monster: Ryan Murphy has found his leads for the second installment of Monster on Netflix, which will focus on the Menendez brothers. Cooper Koch and Nicholas Alexander Chavez have been cast as Erik and Lyle Menendez respectively.  The brothers were convicted in 1996 of killing their parents.  The first season of Monster starred Evan Peters as Jeffrey Dahmer.
RIP Alan Arkin and Julian Sands: The great Alan Arkin passed away this week at age 89 and the tragic saga of Julian Sands ended when his body after he had been reported missing since January.  Arkin was an Oscar-winning actor who appeared in movies like Little Miss Sunshine, Argo, Get Smart, Glengarry Glen Ross, So I Married an Axe Murderer, The Rocketeer, Edward Scissorhands, and more.  He also had a prolific career on Broadway as an actor and a director.  Sands was best known for roles like the title villain of the Warlock movies, Arachnophobia, The Killing Fields, Naked Lunch, 24, Leaving Las Vegas and Boxing Helena.
Good Burger 2 gets new and returning cast members: Kenan and Kel are coming back for a sequel to the 90s favorite Good Burger and the movie has added some new and returning cast members.  Lil Rel Howery and Jillian Bell are joining the cast as the lawyer and CEO of MegaCorp respectively and Josh Server, Lori Beth Denberg and Carmen Electra are returning in their roles from the first movie.  Alex R. Hibbert was previously cast Ed2, Ed's son who acts exactly like his dad, along with Kamaia Fairburn, Fabrizio Guido, Anabel Graetz and Elizabeth and Emily Hinkler as Good Burger employees.
Kevin Bacon starring in The Bondsman for Prime Video: Kevin Bacon is heading back to Prime Video, previously starring in the streamer's I Love Dick, for The Bondsman.  The series is a supernatural crime thriller where Bacon plays Hub Halloran, a backwoods bounty hunter who comes back from the dead and finds his job now has a demonic twist.  Blumhouse is producing the series and Erik Oleson, who showran season 2 of Carnival Row, is showrunning the series.
Gillian Anderson joins The Abandons: The highly anticipated Netflix western series from Kurt Sutter, The Abandons, has added a big new name to the cast with Gillian Anderson signing on.  Anderson is playing Constance, "… the matriarch of the wealthy Van Ness family who inherited her husband's mining fortune, then doubled it. Despite the town's inherent bias against women, her money, charm and ruthlessness created a network of political allies. For her, power, wealth and lineage trump all".  Game of Thrones' Lena Headey is set to star in the series.
Among Us getting an animated series: The viral video game sensation Among Us is getting an animated series from CBS Studios.  Owen Dennis, who created the cult favorite Infinity Train, is the executive producer and creator of the series.  While there are no specifics, the show will apparently follow the same premise as the game, where the crew of a spaceship/space station/etc has to figure out who in their midst is a murderous alien shapeshifter.
Superman and Lois cast for new DC Universe: James Gunn and Peter Safran have found their first big DC Universe stars with David Corenswet cast as Clark Kent/Superman and Rachel Brosnahan cast as Lois Lane.  Corenswet was seen last year in Pearl and was also in The Politician and We Own This City. Brosnahan just wrapped up starring in The Marvelous Mrs. Maisel on Prime Video.  Superman: Legacy, the movie the pair will star in, is being written and directed by Gunn and has a release date currently of July 11th, 2025.
I'm like the J. Jonah Jameson of Everything Action, writing and editing and constantly demanding pictures of Spider-Man.
alan arkin
among us
cooper koch
david corenswet
dc universe
evan peters
gillian anderson
good burger 2
greta lee
james gunn
jillian bell
jodi turner-smith
julian sands
kevin bacon
lil rel howery
lois lane
menendez brothers
news shotgun
nicholas alexander chavez
rachel brosnahan
ryan murphy
superman
the bondsman
tron 3
tron: ares