Everything Action Commentary: The Rocketeer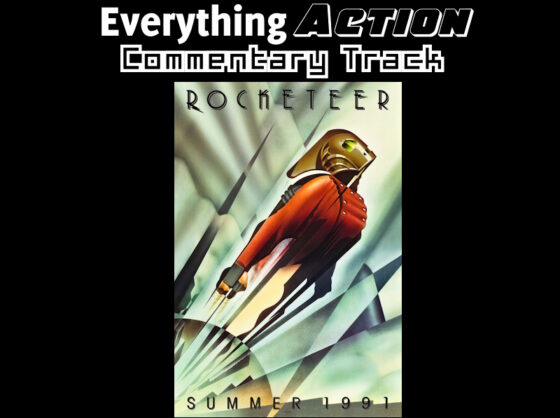 For the latest Everything Action Commentary, Zach and Chris paid homage to the late Alan Arkin by watching the pulpy Disney classic The Rocketeer.  Arkin plays Peevy, the mentor and mechanic for pilot Cliff Secord (Billy Campbell).  After a shootout between mobsters and the cops, Cliff and Peevy find a rocket pack, which Cliff starts to use and gets dubbed The Rocketeer by the local news.  Hollywood actor Neville Sinclair (Timothy Dalton) is also after the rocket pack, secretly working for the Nazis with a plan to use the rocket pack in a plot for world domination, and Cliff, Peevy, and Cliff's girlfriend Jenny (Jennifer Connelly) become targets of Sinclair's goons.  The guys try to figure out how a rocket pack would be any advantage in war, how Cliff doesn't burn his legs off when flying with the pack and also comment on the surprisingly brutal deaths, Cliff's baffling indifference to his gorgeous girlfriend and her career, the sheer amount of "That Guys" in the movie and more.  You can watch The Rocketeer on Disney+ and sync up the movie with the commentary below to watch along with the Everything Action crew.
We want to hear your comments and feedback. Send them all to [email protected].
Also, be sure to subscribe, rate, and review us on Apple Podcasts, Stitcher, Amazon Music, & Spotify
Check us out on Twitter (@evaction) Facebook (www.facebook.com/everything.action), and Instagram (@everything.action).
Where to watch The Rocketeer
Podcast: Download (Duration: 1:57:54 — 54.6MB)
Subscribe: Spotify | Stitcher | RSS
I'm like the J. Jonah Jameson of Everything Action, writing and editing and constantly demanding pictures of Spider-Man.
90s movies
alan arkin
billy campbell
cliff secord
disney
disney movies
everything action
howard hughes
jennifer connelly
jenny blake
jet pack
joe johnston
movie commentary
neville sinclair
pulp action
that guys
the rocketeer
timothy dalton