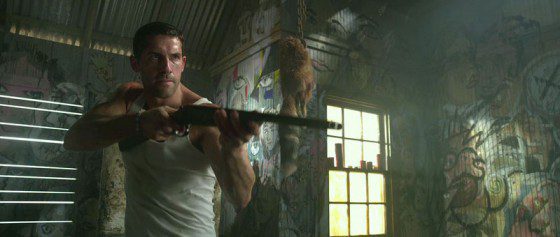 Action figures for your favorite movies coming soon:  Toy company ReAction is getting ready to release a series of the best figures that never came out in the 80's for movies like Back to the Future, The Goonies, Pulp Fiction, A Nightmare on Elm Street, Escape from New York and more.  You can pre-order them at Entertainment Earth
Goosebumps movie casts Jack Black and Odeya Rush: Jack Black reunites with his Gulliver's Travels/Shark Tale director, Rob Letterman, for the upcoming Goosebumps movie.  Black plays Mr. Shivers, an RL Stine analogue whose creations come to life from the page.  Odeya Rush, recently seen in the indie movie We Are What We Are, will play Black's niece.
Arrow renewed for a third season: One of our new favorite shows here at Everything Action has been renewed for third season, as announced by the CW this week.
Chris Pratt or Danny McBride may be the new Michael Knight: Screenwriter Brad Copeland, who has worked on shows like Arrested Development and Grounded for Life, has been working on a script for a big screen reboot of Knight Rider for The Weinstein Company and now it seems like Chris Pratt and Danny McBride are in talks to take on the role of Michael Knight, made famous by David Hasslehoff.
Sharknado 2 expands it's cast: Joining returning stars  Ian Zeiring and Tara Reid are Andy Dick, Vivica A. Fox, Mark McGrath, Judd Hirsch, Kelly Osbourne and Judah Freidlander.  The movie is set to hit sometime later this year.
Final season of Star Wars: The Clone Wars coming to Netflix: Announced by Disney this week, the company signed a deal with Netflix to stream the entire series of Star Wars: The Clone Wars and have an exclusive final season called "The Lost Missions".  The show will be available next month.
Will Forte starring in Last Man on Earth on Fox:  Will Forte will be starring in the comedy series for Fox as the titular last man on Earth.  The show is being executive produced by Chris Miller and Phil Lord and it may premiere sometime midseason next year.
Rick and Morty renewed for a second season:  A massive hit for Adult Swim, they confirmed a no-brainer renewal for a second season of the animated series from Dan Harmon and Justin Roiland.
Unedited Wonder Years coming to DVD:  The beloved series will finally be available in it's original form sometime in the near future on DVD.  The complete series will be released late this year with all original soundtrack intact;  currently streaming on Netflix, the series has filler music instead.
90's Flash joining CW's Flash: The highly anticipated Flash series on CW is building up it's cast and it was announced that the original 90's Flash, John Wesley Shipp, will be on the show as a recurring character, although it wasn't revealed specifically who he would play.
Michelle Fairley joins 24: Live Another Day: Replacing actress Judy Davis, Michelle Fairley aka Catlin Stark will be an arms dealer and the widowed wife of a terrorist in London.
Gotham reveals main cast: Ben McKenzie will be Jim Gordon, Donal Logue will be Harvey Bullock, Robin Lord Taylor will be Cobblepot aka Penguin, Sean Pertwee will be an ex-Marine version of Alfred, Zabryna Guevara will be Essen, Gordon's boss and Erin Richards will be Barbara Kean, the future Mrs. Jim Gordon.
True Detective creator may direct remake of Stephen King's IT:  Cary Fukanaga, creator of the incredible new HBO show True Detective, could be lending his forboding and creepy eye for atmosphere to a new take on Stephen King's IT.  Fukanaga is set to write and direct the new version.
Mob City cancelled by TNT: After compressing the first season into 3 weeks back in December, TNT has decided not to pick up a second season of Frank Darabont's 40's crime drama.
Kyle Reese down to two actors:  The final role for Terminator: Genesis is down to Jai Courtney and Boyd Holbrook.   Holbrook, who could be recently seen in The Host and Out of the Furnace, is apparently the front runner but Courtney has been in more higher profile action movies.
Bryan Singer picks up rights to comic "Haunted": The comic follows a young girl in a world that has been taken over by the spirit world, kind of like if the Ghostbusters had failed at the end of the first movie.  Whether Singer sees it as  movie or TV show remains to be seen.
Idris Elba, Noomi Rapace and Sam Worthington starring in Alive Alone: The upcoming thriller will follow Elba as a former Guantanamo Bay detainee who now drives a cab, who picks up a prostitute (Rapace) on the run from a crime boss (Worthington).
Ed Skrein is the new Transporter: With news last week that Transporter 4 would be a prequel with a younger Frank Martin, it was announced this week that Game of Thrones' Ed Skrein will take over the role from Jason Statham.  Skrein currently plays Daario Naharis on Game of Thrones.
James Franco directing a movie based on the making of The Room:  Widely considered a contender for "worst movie ever made" is Tommy Wiseau's The Room.  Actor Greg Sestero, who co-starred in the movie, wrote a book about the experience called The Disaster Artist and now James Franco is set to direct an adaptation of the book and he and his brother Dave will co-star.
I'm like the J. Jonah Jameson of Everything Action, writing and editing and constantly demanding pictures of Spider-Man.
24: live another day
80s toys
action figures
alive alone
andy dick
arrow
ben mckenzie
bryan singer
cancellation
cary fukanaga
chris miller
chris pratt
comic
daario naharis
danny mcbride
dave franco
dvd release
ed skrein
frank martin
goosebumps
gotham
haunted
ian zeiring
idris elba
jack black
james franco
jim gordon
judah freidlander
judd hirsch
knight rider
last man on earth
mark mcgrath
michael knight
michelle fairley
mob city
mr. shivers
News
news shotgun
noomi rapace
odeya rush
phil lord
reaction
renewal
rick and morty
sam worthington
sharknado 2
star wars: the clone wars
stephen king's IT
tara reid
the disaster artist
the room
the wonder years
tommy wiseau
transporter 4
true detective
vivica a fox
will forte